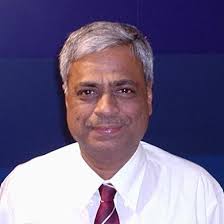 Dr. Ashok Jhunjhunwala
Ashok Jhunjhunwala is Professor in the Department of Electrical Engineering, Indian Institute of Technology, Madras at Chennai, India. After his B.Tech from IITK, he got his MS and PhD from the University of Maine. From 1979 to 1981, he was with Washington State University as faculty. Since 1981, he has been teaching at IIT, Madras.
Dr. Jhunjhunwala is considered the pioneer in nurturing Industry -Academia interaction in India towards R&D, Innovation and Product Development. He conceived and built the first Research Park (IIT Madras Research Park) in India which houses over 100 R&D companies in its 1.2 million square feet built-up area. TIE conferred him the title of Dronacharya for his contributions to the cause of entrepreneurship, as he incubated and nurtured over 100 companies at IIT Madras. He heads the IITM Incubation Cell and Rural Technology and Business Incubator (RTBI). He founded and had been leading the Telecommunications and Computer Networks group (TeNeT), which has worked closely with industry in the development of a number of products for Indian telecom, banking and power industries.
One of his key focus over the last two decades has been to drive telecom R&D. As a developer of the first Wireless in Local Loop (CorDECT WLL) product in India, he recognizes that in the absence of adequate wire-line infrastructure, India would need to deliver higher and higher bit rate per Hz of available spectrum, but with lower and lower power per bit. 4G and 5G wireless technologies are focused towards this. The R&D tasks in India are to contribute to new fundamental ideas and acquire enough IPR in the area and drive international standards. The first objective would be to get India as a net-royalty inflow nation. At the same time, there has to be a focus on driving telecom design and manufacturing in India, so that its net-imports in telecom goes to zero. Simultaneously, he has been working on using telecom and ICT to make a difference to lives of people in India, especially for its rural people. Using ICT to drive health-care, education, agriculture, livelihood and financial inclusion has been the focus of his work. He was the founder chairman of Mobile Payment Forum of India, which enabled mobile payments in India.
Having made a mark in telecom, over the last couple of years he has focused on power and has come up with innovation to ensure that all homes in India get 24 x 7 power even in situation of extreme power shortage. Using his solar-DC innovation, he is focused on decentralised solar power and believes that by 2030, India should get 50% of its peak power from solar. As a chairman of Technology Advisory Group for Electric Mobility, he believes that 50% of vehicles in 2030 could have electric traction.
He is keen to drive quality into Science and Engineering Higher Education. As a member of Kakodkar committee on IITs and NITs, he has driven that IITs should become primarily research institutions in future, while NITs should become the institutions with highest quality UG education. As a chair of a MHRD committee on "Quality Enhancement in Engineering Education," and a member of review committee of AICTE, he is targeting both public and private engineering colleges to significantly improve the quality of their education. He believes that ICT can be an important tool to enable this, though strengthening of local faculty is equally important.
As a chairman of a Committee of SAC-PM on water, he has come up with a comprehensive report on different ways that water-shortage, quality and pollution is affecting India and has come up with R&D, Implementation and Policy tasks that India has to undertake to overcome its water problems.
Dr. Jhunjhunwala has been Chairman and member of various government committees and has been on Boards of several education institutions in the country. At the same time, he has been on the Boards of a number of public and private companies and has driven comprehensive changes, especially in the area of technology, in the companies. He was a Director on the Board of State Bank of India, Bharat Electronics, HTL, NRDC, IDRBT, VSNL and BSNL. Currently he is a Board member of Tata Communications, Mahindra Rewa, Sasken, Tejas Networks, TTML, Intellect and Exicom. He is currently also on the Board of BIRAC and Chairman of Technology Advisory Group of SEBI.
Dr. Jhunjhunwala was conferred Padma Shri in 2002, Shanti-swarup Bhatnagar Award, Vikram Sarabhai Research Award, H. K. Firodia Award, Silicon India Leadership Award, Millenium Medal at Indian Science Congress, UGC Hari Om Ashram Award, IETE's Ram Lala Wadhwa Gold Medal, JC Bose fellowship, Bernard Low Humanitarian Award and many more. He is fellow of IEEE, INSA, NAS, IAS, INAE and WWRF. He has also been conferred Honorary Doctorate by University of Maine and Blekinge Institute of Technology, Sweden.
Contact Details
Phone : +91 44 2257 4408 / 0120
Email : ashok@ee.iitm.ac.in, ashok@tenet.res.in